Creating a Dashboard for
Jamf Pro

Data

You can add your search results in panel form to a new dashboard or an existing dashboard, and then customize the dashboard to meet your organization's needs.
In

Splunk

, click the

Search & Reporting

app.
In the

Search

tab, enter a search that will return results you want to display in a dashboard.
Click

Save As

.
Choose from the pop-up menu.

Do one of the following:

Select New and configure settings for your dashboard.

Select Existing and select a dashboard.

Click

Save

.
Click

View Dashboard

to view your data in the dashboard.
Customizing the Dashboard for
Jamf Pro
You can do the following to customize
Splunk
dashboards:
Switch between light and dark mode.

Edit the layout of panels.

Edit the visualization of individual panels.
The following screenshot shows how a customized Jamf Pro Dashboard might look: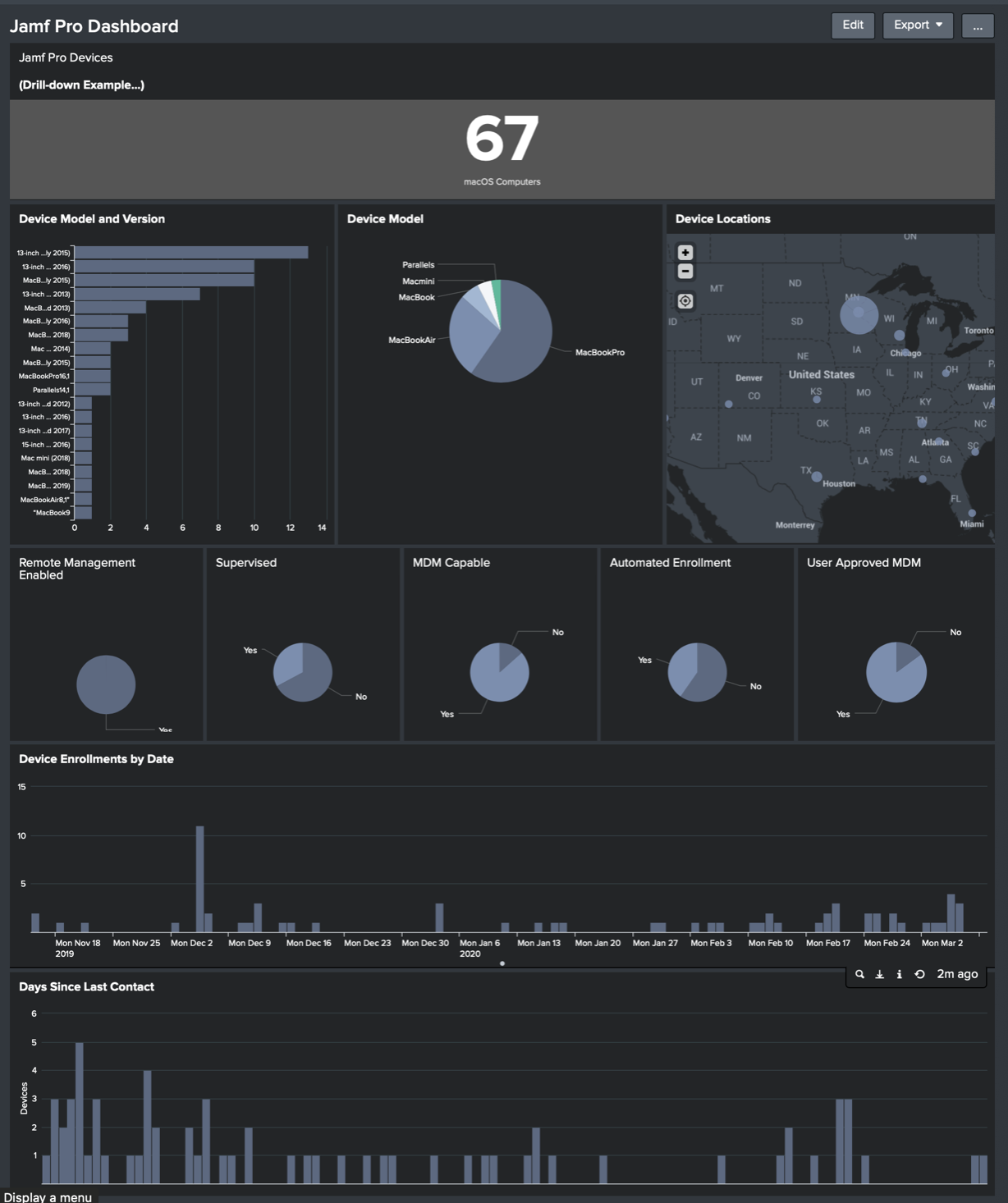 Jamf Pro

Search and Visualization Examples

This section contains examples of search and visualization pairs that can be used as a starting point to display your data in a dashboard.

The following examples use searches based on data collected from the Jamf Pro Add-on for Splunk.
Total macOS Computers
| Search | Visualization |
| --- | --- |
| source="jamf://JamfPro_Computers" computer.hardware.model=* | dedup computer.self.id| stats count by computer.hardware.model | sort count desc | |
Total macOS Computers by Hardware Model
| Search | Visualization |
| --- | --- |
| source="jamf://JamfPro_Computers"| dedup computer.general.id | stats count | |
Total macOS Computers by Hardware Category
| Search | Visualization |
| --- | --- |
| source="jamf://JamfPro_Computers" computer.hardware.model_identifier = * | dedup computer.self.id | eval model='computer.hardware.model_identifier' | rex field=model "(?<modelType>.*?)\d.*" | stats count by modelType | sort count desc | |
Remote Managed Computers
| Search | Visualization |
| --- | --- |
| source="jamf://JamfPro_Computers" | dedup computer.general.id | replace "true" with "Yes", "false" with "No" in computer.general.remote_management.managed | chart count by computer.general.management_status.enrolled_via_dep | |
Enrollment Methods
| Search | Visualization |
| --- | --- |
| source="jamf://JamfPro_Computers" | dedup computer.general.id | replace "true" with "Yes", "false" with "No" in computer.general.remote_management.managed | chart count by computer.general.management_status.enrolled_via_dep | |
Enrollment Date
| Search | Visualization |
| --- | --- |
| source="jamf://JamfPro_Computers" | dedup computer.general.id | rex field= "(?<dateTtime>....-..-..T..:..:..).*?" | eval _time = strptime( 'computer.general.last_enrolled_date_utc', "%FT%T.%3N%z") | timechart span=1day count by true() | |
Days Since Last Check-in
| Search | Visualization |
| --- | --- |
| source="jamf://JamfPro_Computers"| dedup computer.general.id | eval daysSinceLastContact=floor((now()-('computer.general.last_contact_time_epoch'/1000))/(60*60*24)) | stats count by daysSinceLastContact | sort daysSinceLastContact | makecontinuous daysSinceLastContact | rename count as "Devices", daysSinceLastContact as "Days Since Last Contact" | |