Creating a Dashboard for
Jamf Protect

Data

You can add your search results in panel form to a new dashboard or an existing dashboard, and then customize the dashboard to meet your organization's needs.
In

Splunk

, click the

Search & Reporting

app.
In the

Search

tab, enter a search that will return results you want to display in a dashboard.
Click

Save As

.
Choose from the pop-up menu.

Do one of the following:

Select New and configure settings for your dashboard.

Select Existing and select a dashboard.

Click

Save

.
Click

View Dashboard

to view your data in the dashboard.
Customizing the Dashboard for
Jamf Protect
You can do the following to customize
Splunk
dashboards:
Switch between light and dark mode.

Edit the layout of panels.

Edit the visualization of individual panels.
The following dashboard is an example of how you can customize a Jamf Protect dashboard: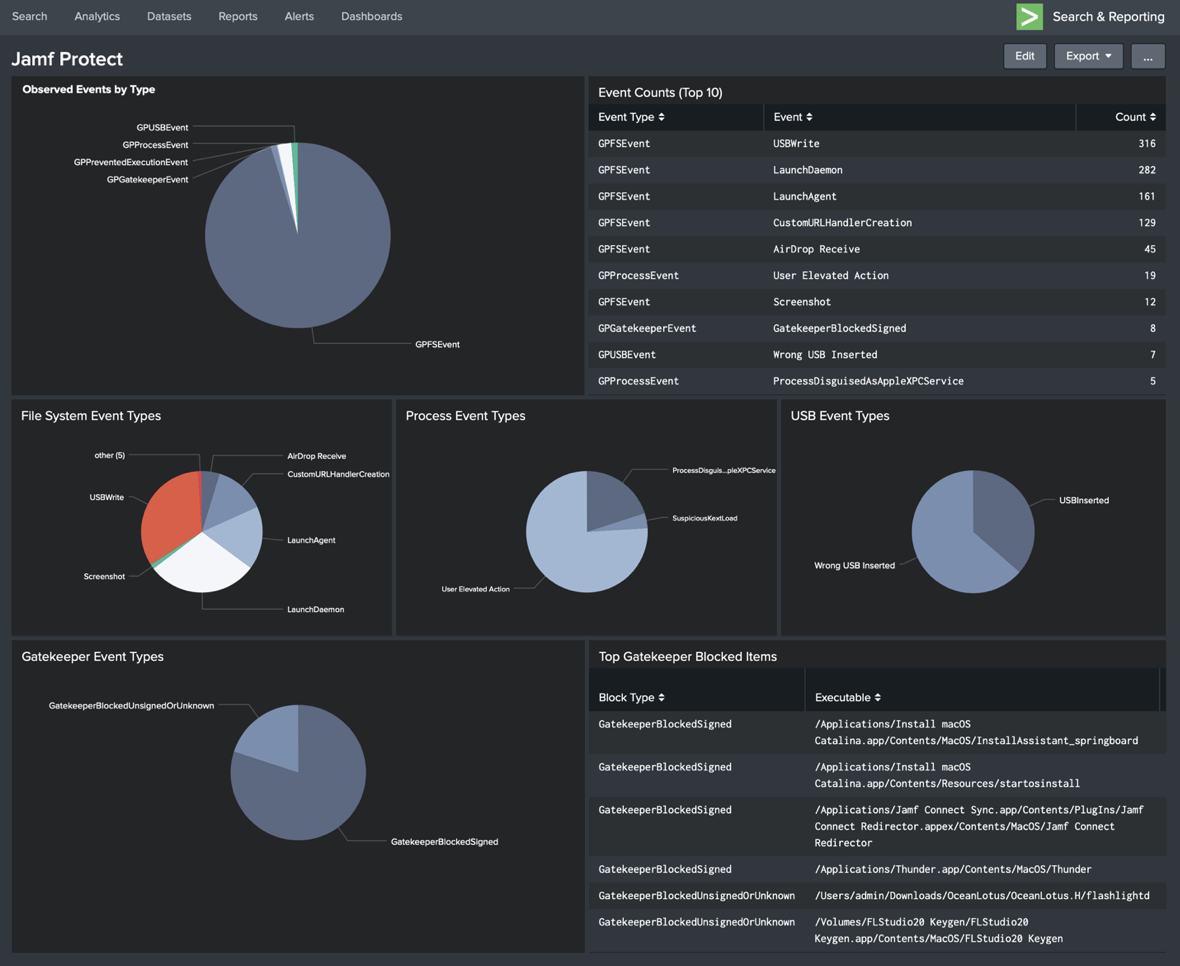 Jamf Protect

Search and Visualization Examples

This section contains examples of search and visualization pairs that can be used as a starting point to display your data in a dashboard.

The following examples use searches based on data collected from Jamf Protect for Splunk.
Logs and Alerts by Event Types
| Search | Visualization |
| --- | --- |
| source = "http:Jamf Protect" | stats count by input.eventType | rename input.eventType AS "Event Type", input.match.facts{}.name AS "Event", count AS "Count" | |
Detected Analytics Count
| Search | Visualization |
| --- | --- |
| source = "http:Jamf Protect" | stats count by input.eventType, input.match.facts{}.name | rename input.eventType AS "Event Type", input.match.facts{}.name AS "Event", count AS "Count" | sort Count desc | head 10 | |
Event Type Breakdown
| Search | Visualization |
| --- | --- |
| source = "http:Jamf Protect" input.eventType="GPFSEvent" | stats count by input.match.facts{}.name | rename input.match.facts{}.name AS "Event", count AS "Count" | |
Executables Blocked by Gatekeeper
| Search | Visualization |
| --- | --- |
| source = "http:Jamf Protect" input.eventType="GPGatekeeperEvent" | stats count by input.match.facts{}.name, input.match.event.path | rename input.match.facts{}.name AS "Block Type", input.match.event.path AS "Executable" | head 10 | |