Jamf Protect Plans in Jamf Pro
If you have a Jamf Pro subscription and registered your Jamf Protect tenant with Jamf Pro, plans from your Jamf Protect tenant are available as computer configuration profiles in Jamf Pro. You can configure the scope of plan configuration profiles to deploy them to target computers.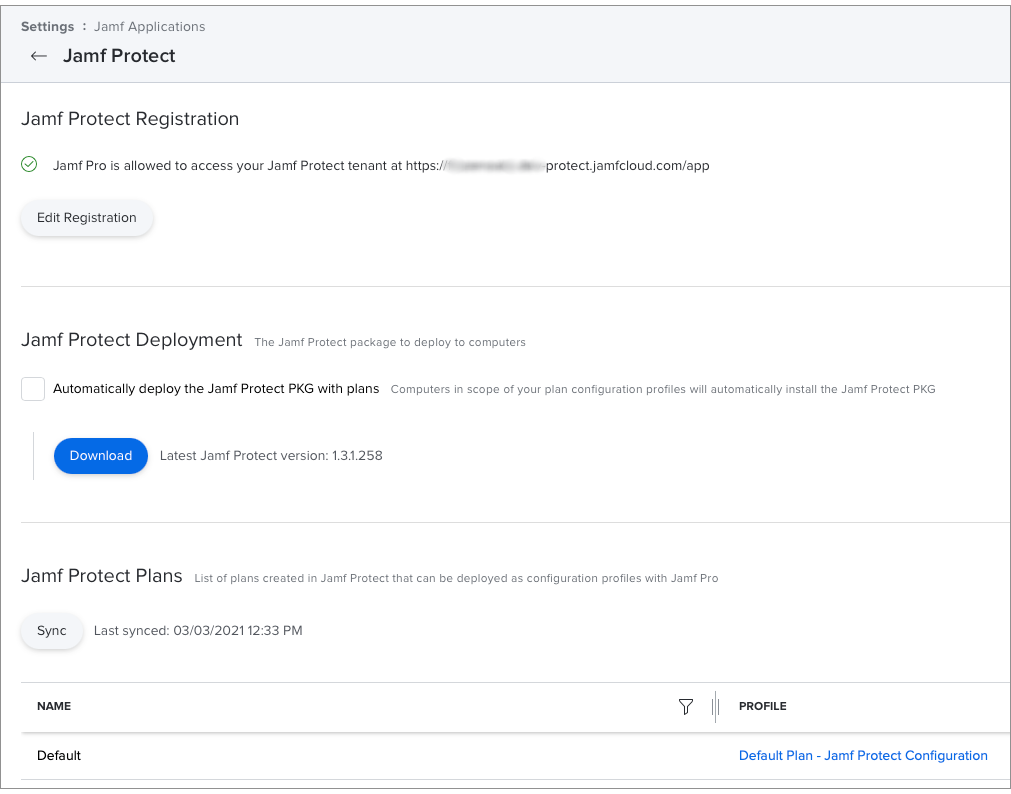 Keep the following in mind when configuring scope for plan configuration profiles:
If you delete plan configuration profiles from Jamf Protect, the plans will re-appear without a scope the next time Jamf Pro syncs with Jamf Protect (every six hours).

You cannot edit the settings in a Jamf Protect plan from Jamf Pro . To edit a plan, navigate to the plan in your Jamf Protect tenant. Changes to a plan on computers are applied the next time the computer checks in with Jamf Protect.

If the Jamf Protect PKG is deployed without a plan configuration profile, computers will not check in with the Jamf Protect Cloud and the agent will not successfully monitor for threats. Configuring scope for your plans before deploying the Jamf Protect PKG is recommended.

To help you find plan configuration profiles synced from Jamf Protect on the computer configuration profiles pane, "(Jamf Protect)" is appended to each profile name that is synced.
Configuring Scope for
Jamf Protect

Plans

You can configure the scope of available plan configuration profiles to deploy them to target computers.

Requirements
A Jamf Protect subscription 

One or more plans in Jamf Protect

For instructions, see the Creating a Plan section in the Jamf Protect documentation. 

Registration of your Jamf Protect tenant in Jamf Pro

For more information, see the Jamf Protect Integration with Jamf Pro.
In Jamf Pro, click

Settings

in the top-right corner of the page.
Click

Jamf Applications

.
Click

Jamf Protect

.
In the

Jamf Protect

Plans table, click on the plan configuration profile you want to configure in the 

Profile

 column.

Note:

You can click Sync to manually check Jamf Protect for plan updates. Jamf Pro automatically syncs with Jamf Protect every six hours.

Click

Edit

.
Click the

Scope

tab.

Configure the scope of your plan configuration profile.

Click

Save

.
The plan configuration profile is distributed to target computers the next time they check in with Jamf Pro, and the scope also displays in the Scope column on the Jamf Protect page in Jamf Pro.
If you selected the Automatically deploy the Jamf Protect PKG with plans checkbox in the Jamf Protect Deployment section, the Jamf Protect PKG is automatically deployed to computers in the scope that have not yet installed the Jamf Protect PKG.