Mounting a Network Drive on a macOS Client Computer
It is possible to configure a network mount on macOS using a managed profile. When creating a profile for macOS devices it is possible to configure the following two items:
Having these two items configured will allow a user to log into a network drive when booting a macOS device.
Login Items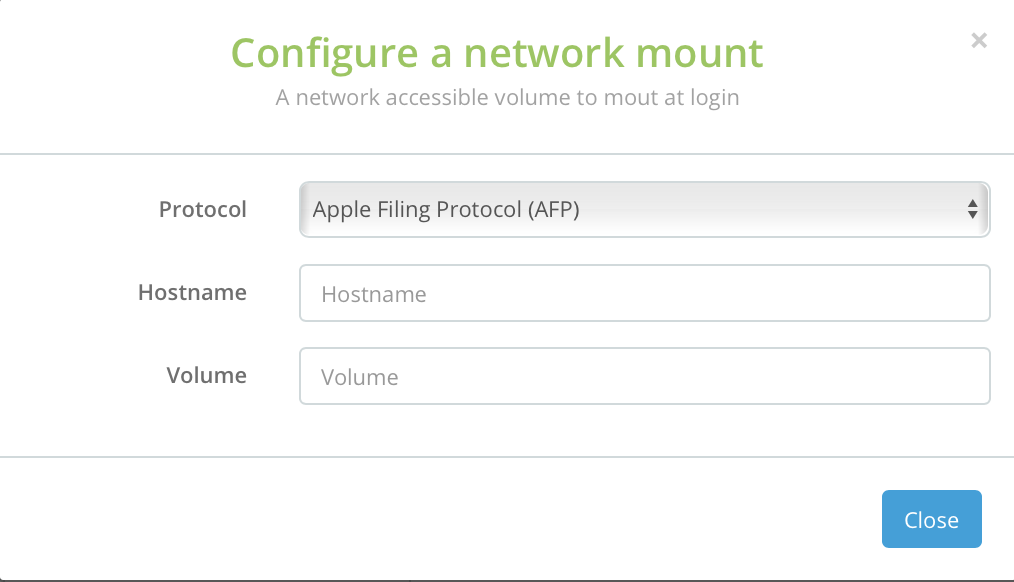 See the following address formats when naming a path for configuring an authenticated network drive:
Sharing Protocol

Address Format

SMB/CIFS (Windows) servers and shared folders

smb://DNSname/sharename

smb://IPaddress/sharename

You can also use the computer name. If you don't specify the shared folder as part of the address, you can choose it after you enter your user name and password.

AFP File Sharing

afp://ComputerName.CompanyName.com

afp://Hostname/Volume

NFS server

nfs://DNSname/pathname
Note: When configuring a network mount in Jamf School, Hostname and Volume are in the following order: Protocol://Hostname/Volume.
Login Window
In the login window you can configure the following features:
Window options

Menu Bar

Banner

Login Prompt

Options

Show password hint when needed (and available)

Disable automatic login

Enable console login

Enable fast user switching

Log out after x amount of inactivity
Once both fields are configured, upon booting a macOS device the mount will either be automatically mounted or the user will have to log in (depending on your configuration).
For more information on network drives, see the following Apple documentation: